Minnesota-Passions
Money Saving Opportunities*
SAVE MONEY BY EARNING CASHBACK ON PURCHASES
Discover Card
When Discover Card launched (long ago), they were not accepted at many places, but that has definitely changed. They are now accepted virtually everywhere. Aside from a standard small cashback on every purchase, they also provide larger percentage cashback payments when used at various types of establishments during specific quarters...Grocery Stores, Gas Stations, etc. If you don't currently have a Discover Card, it may be time to consider it. If you have a few minutes, click through to see if this option makes sense for you.

SAVE MONEY VIA DAILY EMAIL DEALS
Groupon
Feel like you miss out on all the best deals in your city? Have them sent to you daily by signing up for one daily email from the site below. Save money through collective group purchasing power! Huge discounts offered daily, but only if a large enough group of people sign up. If you ever change your mind about the Daily Email, just unsubscribe.
Thrifty? Budget Conscious?
Join Frugal Passions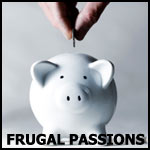 Saving is Sexy!

**Aside from providing a network of free online dating & social networking community sites, Passions Network would like to help those members of the network who are looking for ways to save money. The sites and promotions listed on this page have been chosen based on an expectation that they could be of interest to members of Passions Network, although no guarantees are made as to the money saving potential of any individual site or promotion for any individual Passions Network member. Some offers may provide a commission or referral fee to Passions Network for informing members of these offers.
Minnesota News
Minnesota Travel
History Of Minnesota
Online Dating Sites
Webcam Sites
Personals / Chat Sites
Instant Messaging/VideoChat
Miscellaneous